The Story of Leo
Former Vick dog heals hearts
Speak clearly, if you speak at all; carve every word
before you let it fall.
--Oliver Wendell Holmes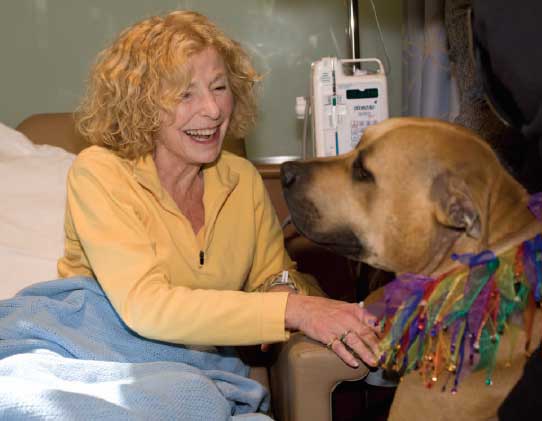 By Randi Bildner
Words are tools that wield incredible power; used effectively they can make a positive contribution to society. Unfortunately, sensationalism and the promise of the sale can skew reality and turn innocent statements into dangerous rhetoric.
Such is the case for the sad situation facing many pit bulls in this country and around the globe.
Leo is the name Certified Dog Trainer Marthina McClay chose for the American Pit
Bull Terrier who made his way into her loving arms on December 16, 2007. McClay rehabilitated the animal, and then, in just five short weeks, turned him into a therapy dog. His name (a reference to "Leo the Cowardly Lion") was chosen as a testament to his meek demeanor—a sharp contrast to the public perception of the pit bull.
McClay's accomplishments would be impressive for any dog or any trainer for that matter— but Leo is not your average canine.
In April 2007, Leo, along with 50 other pit bulls, made worldwide news when he was confiscated from suspended NFL player Michael Vick's home in Smithfield, Virginia. Evidence indicated that Vick was running a full fledged dog fighting ring under the guise Bad Newz Kennels.
Now serving much-deserved time in prison for the atrocities committed on his property, the former football star is also digging deep (by court order) into his well-padded pockets to pay to rehabilitate this once-fighting dog Leo along with the 47 other remaining dogs who have been sent to trainers and sanctuaries around the country.
It is important to note: of the 50 dogs confiscated at Vick's property only one was deemed too aggressive for rehabilitation. Unfortunately, one additional dog was euthanized when it was discovered he was suffering from cancer.
Well aware of the media's uncanny ability to misrepresent facts about pit bulls to create
sensational headlines, McClay is extremely protective of Leo's reputation. It became her mission to make it impossible to misread Leo's intentions. McClay cleverly dresses Leo in a clown collar when he is "on the job," visiting oncology wards and other medical institutions.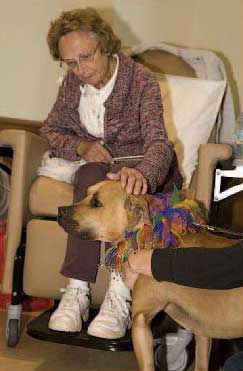 Leo's intentions are undeniably clear as he places his huge head on the lap of a distressed patient. With deep, soulful eyes he peers directly into their hearts, causing them to muster a smile. For a few moments, all is well with the world—as Leo brings light to someone facing a dark day.
Each time the media puts a negative spin on a story to grab a headline; it is a tacit
endorsement of the people who are part of this unsavory sub-culture. McClay points out, "With each misstatement these dogs are being pushed further underground and away from society."
McClay is the founder of Ourpack.org, a San Francisco-based organization that
rehabilitates pit bulls— including "fight bust dogs" like Leo. McClay credits these dogs in particular for teaching her much about the world of dog fighting.
What McClay learned is contrary to what most people believe and would be very surprised to hear: these dogs do not want to fight. McClay states, "The fear in their eyes clearly tells the story," saying, "The dogs are shoved and pushed into the ring or pit leaving them no place to go." According to McClay, dog fighting is something dogs are forced to do by horrible means and do not enjoy.
The understanding gained from fight bust dogs supported what McClay observed
throughout her years of experience, confirming her theory: insecurity, fear and in some cases lack of socialization were often incorrectly interpreted as aggression.
Ironically, McClay believes that Leo is the most balanced American Pit Bull Terrier she
has ever known, saying, "He is extremely confident with people; his behavior clearly showed that he did not want to fight." Leo shows his love for his fellow canines too. He now resides with McClay along with two additional pit bulls and a Chihuahua Pug mix.
Calling pit bulls "biddable"—willing to do what is asked and very obedient— they
are actually loyal to a fault, which it the very tendency that can lead to trouble when
placed in the wrong hands.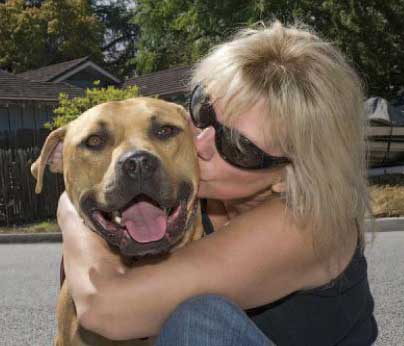 With proper assessment and training many pit bulls can thrive as therapy dogs.
McClay states, "One thing you can't teach a dog is to want to love; this is simply in their
nature; you can't just make a therapy dog." Unlike fighting, love is innate; it is something that cannot be taught.
Leo's work is a multi-faceted service. Not only does he bring joy to those in difficult situations, he is showing the world what he is all about. He clearly demonstrates the fact that when nurtured and loved, pit bulls can make an incredible contribution to the world.
Additional credentials:
Marthina McClay, CPDT
AKC Certified CGC Evaluator
Certified Tester/Observer
for Therapy Dogs, Inc.
Animal Behavior College Mentor Trainer
www.ourpack.org
www.dogtrainingforpeople.com

Photos courtesy of Stephanie Lam of Our Pack